Flashback
Edit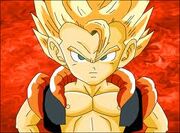 Last time on Episode 3, Gogeta Jr. was born. Will they stand a chance? Find out, now!
Super Gogeta Jr.
Edit
Gogeta: It's over! You won't stand a chance against me!
Supea Goku: Ha! Really? We know all about your little Fusion Dance thing.
Gotek: What?! How do they know about Fusion?
Supea: That's not all we know. We also know that this little kid is Gogeta.
Gogeta: *Goes Ascended Super Saiyan* That's it! ENOUGH PLAYING AROUND!!! Big Bang Kamehameha!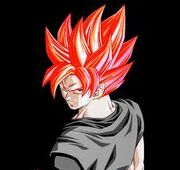 Supea Goku: *Goes Super Saiyan* Okay, fine. Then, let's get started! *Deflects*
Super Gogeta: You won't beat me. *Teleports behind Supea* Kamehameha!
Supea Goku: What?
Super Gogeta: Die!
Supea Goku: *Instant Transmission* You're dead! Big Bang Attack!
Super Gogeta: *Deflects* Again! Kamehamehaaa!!!
As the fight continues, the two Super Saiyans are evenly matched!
Super Gogeta: Uh-oh...the Fusion is wearing off!
Supea Saiyan Goku: AHAHAHAHAHAHAHAHA! I TOLD YOU THAT YOU CAN NOT BEAT ME!!! NOW DIE AT THE HANDS OF THE SUPEANOVA!
Goku Jr.: Oh, great...
Gotek: I told you we couldn't win!
Vegeta Jr.: Super Saiyan time! *goes Super Saiyan* HERE GOES! HAAAAA!
Find out what happens next time, on Dragon Ball Heroes!