Dragon Ball Z: The World's Strongest, known in Japan as Dragon Ball Z: Kono yo de Ichiban Tsuyoi Yatsu (ドラゴンボールZ この世で一番強いヤツ; lit. "Dragon Ball Z: The World's Strongest Guy"), is the second Dragon Ball Z movie. It was originally released in Japan on March 10, 1990, between episodes 39 and 40. It was translated in America by FUNimation Entertainment; FUNimation and Bridge Entertainment's title is The Strongest Guy in the World.
The movie begins with Gohan and Oolong searching for the Dragon Balls that have all been gathered in the frozen Tsumisumbri Mountains (with the latter obviously wanting to wish for underwear). Before they reach them, Shenron is summoned by Dr. Kochin, who wishes for his mentor, Dr. Wheelo, to be released from his icy prison. Meanwhile, Piccolo is ambushed by three mysterious warriors and knocked out cold while trying to defend Gohan and Oolong. Later on, Gohan has a weird dream about him and Piccolo.
Kochin then kidnaps Master Roshi and Bulma, thinking that Roshi is the world's strongest and a suitable body for Wheelo, whose own body was destroyed, leaving him only as a brain. Roshi is tested by Kochin's Bio-Warriors, and, despite putting up a decent fight while being outnumbered three to one, is ultimately defeated. Bulma then reveals that Goku is the strongest, just as he approaches Wheelo's fortress to save his friends. Meanwhile, Goku and Chi-Chi confront Oolong and Gohan on what they know about the group who kidnapped Bulma and Master Roshi.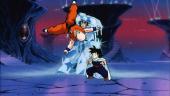 After reaching the fortress, Goku is attacked by the Bio-Warriors, but easily defeats them with the Kaio-ken, and is also joined by Gohan and Krillin. They then arrive at Wheelo's lab where Bulma is being held, but run into Piccolo, who was brainwashed into returning to his old ways when he was captured earlier. Goku and Piccolo then fight each other, but Gohan's anger causes the mind-controlling device on Piccolo to break. Kochin tries to shoot Krillin and Bulma with his machine gun-arm, but is beaten by Roshi.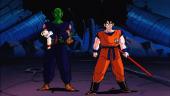 Wheelo then breaks out of the wall, revealing his brain to be inside a huge robot. Realizing that he was being controlled, Piccolo attacks Wheelo, only to be brushed aside. As Wheelo jumps into the air, Goku, Krillin, and Roshi fire the Master-Student Kamehameha, which does nothing to Wheelo. Goku, Gohan, Krillin, Piccolo, and Roshi then attack Wheelo, but are unable to win. Goku then fires his Kaio-ken Kamehameha and shoots Wheelo into space. Wheelo decides to destroy the Earth with his Planet Geyser energy wave and move on to another world, but Piccolo and Gohan are able to stop him for a while. Meanwhile, Goku has been collecting energy for a Spirit Bomb; when it is ready, Goku launches it at Wheelo and destroys the mad scientist.
Characters
Edit
Supporters
Edit
Major battles
Edit
Continuity
Edit
The events of this movie clearly happen after the Vegeta Saga, as Gohan has already trained with Piccolo (he knows him and wears his clothes) and Goku has already trained with King Kai (he wears his emblem on the back of his clothes, and uses both the Kaio-ken and Spirit Bomb). Gohan also has a flashback that shows when Piccolo died saving his life. However, Piccolo is alive, which did not happen until the Frieza Saga, and Goku is back on Earth, which did not happen until the Trunks Saga.
Therefore, the movie might take place in the three years the Z Fighters are training to prepare for the Androids, despite the strange occurrences of Goku not turning Super Saiyan when it was needed, showing strain at the use of a Kaio-ken x4 and still wearing King Kai's symbol.
The movie was originally released on both VHS and Laserdisc in Japan. They were in a 16:9 format, cropped from its original 4:3 format. It was then released later in Japan as part of the well-known Dragon Box sets, remastered from its original film masters and in a 16:9 anamorphic widescreen format. There was much controversy from fans over the decision to crop the movies from its original 4:3 format. The controversy died down when Toei announced that the films were originally animated for widescreen viewing. The boxed set was released (containing all four Dragon Ball and all thirteen Dragon Ball Z movies) with great critical and audience reception.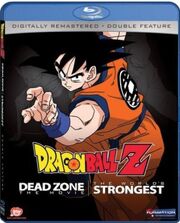 In the United States, it was released in May 27, 1998, after the release of the first movie, Dragon Ball Z: Dead Zone, and shortly after the release of the third movie, Dragon Ball Z: The Tree of Might, by FUNimation Entertainment and Pioneer, in VHS, Laserdisc, and DVD. These three movies were uncut, and contained both the Ocean Group dub and the original Japanese dub. They were also released for the first time in a 4:3 format.[1] The three movies were re-released together by Pioneer on October 9, 2001, in a three-movie boxset, called "Dragon Ball Z - Movie Boxed Set".[2]
After Funimation acquired the exclusive DVD rights for the first three movies from Pioneer in 2004, it released The World's Strongest again in November 14, 2006, along with Dragon Ball Z: Dead Zone and The Tree of Might movies, in a "First Strike" DVD boxset.[3] It contained a brand-new in-house dub and the original Japanese dub.
Funimation re-released this film in May 27, 2008, alongside Dead Zone, digitally remastered and in a 16:9 format, as a "Double Feature" DVD.[4]
This movie was also re-released by FUNimation in a movie five pack on November 1, 2011, along with Dead Zone, The Tree of Might, Dragon Ball Z: Lord Slug, and Dragon Ball Z: Cooler's Revenge. However, these are the same disks found on the double features.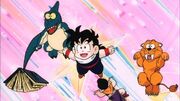 References
Edit
Cite error: <ref> tags exist, but no <references/> tag was found