"Wow, my gosh! What a change! This has never happened before...huh, wait, it's the legend! Goku must have transformed into a Super Saiyan!"
— King Kai (Dragon Ball Z: Lord Slug)
False Super Saiyan (疑似超サイヤ人, Giji Sūpā Saiya-jin) is a Saiyan transformation that Goku takes during his battle against Lord Slug in the movie Dragon Ball Z: Lord Slug. In the anime Daizenshuu, this form was originally labeled as the true Super Saiyan form, but later re-labeled as Giji or "False" Super Saiyan after the actual Super Saiyan form was introduced in the manga series.
Appearance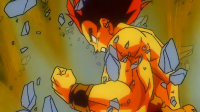 When he transformed into the true Super Saiyan during the fight against Frieza, Goku witnessed the murder of his best friend, Krillin (as well as the fact that Krillin is not likely to be revived with the Dragon Balls, as Shenron had already granted that wish and could not resurrect the same person twice), something that drove him over the edge. This ultimate pain was not fully present during the fight against Slug, that and Goku wasn't at the same power level as when he fought Frieza, which is most likely why Goku did not transform fully. The form of False Super Saiyan was shown to be very erratic, lasting for only as long as the aura is ignited, and using up much more energy to sustain than the full Super Saiyan.
Usage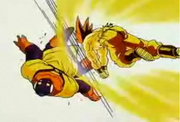 During the battle against Lord Slug, Goku's strength began to quickly debilitate. Having no more options, Goku's anger surged, causing him to gain a massive power increase, enough to quickly overwhelm Slug. However, after a quick sequence of thrashing Slug around, Goku's False Super Saiyan power quickly faded.
One way to put it is that the False Super Saiyan transformation occurs when a Saiyan has the required physical power but lacks the required mental strife to transform into a Super Saiyan. It is apparent, however, that the form gives a large power increase, enough for Goku, who was being easily beaten previously by Slug, to now quickly overwhelm him.
Trivia