"Power levels" redirects here. For the concept of power levels, see Power Level.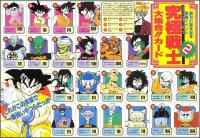 This is a list of known and official Power Levels in the Dragon Ball universe. All of the levels on this list are taken from the manga, anime, movies, the official Daizenshuu guides, games and stated mathematical calculations.
After the Frieza Saga, the only power level stated by a scouter is that of Future Trunks. In the 2000's, V-Jump's scans have revealed the official power levels of Cooler in his Final Form, Broly in his Legendary Super Saiyan form, and Gogeta in his Super Saiyan form.
Power Level Table
Pre-Dragon Ball
Saga
Character
How it is Obtained
Description of Event
Power Level
Manga Source
Original Anime Source
Edited Anime Source
Other Source

Pilaf Saga

Goku
Stated in section "The Evolution of Goku's Power Level"
First appearance in Dragon Ball
10
Daizenshuu 7
Goku
Stated in section "The Evolution of Goku's Power Level"
Great Ape transformation at Pilaf's palace
100
Daizenshuu 7
Master Roshi
Original Kamehameha
180
Weekly Jump

Red Ribbon Army Saga

Mercenary Tao
When he first appeared
110
V-Jump
Korin
Korin's power level
190
Weekly Jump

Tien Shinhan Saga

Master Shen

Stated in section "The Evolution of Goku's Power Level"
At the 22nd Tournament
120
Daizenshuu 7
Master Roshi
Stated in section "The Evolution of Goku's Power Level"
At the 22nd Tournament
139
Daizenshuu 7
Chiaotzu
Presumably the 22nd World Tournament
84
V-Jump
Tien Shinhan
Stated in section "The Evolution of Goku's Power Level"
At the 22nd Tournament
180
Daizenshuu 7
Goku
Stated in section "The Evolution of Goku's Power Level"
At the 22nd Tournament
180
Daizenshuu 7

King Piccolo Saga

King Piccolo
Stated in section "The Evolution of Goku's Power Level"
After restoring his youth with the Dragon Balls
260
Daizenshuu 7
Goku
Stated in section "The Evolution of Goku's Power Level"
After drinking the

Ultra Divine Water

260
Daizenshuu 7
Kami
When meeting Goku
220
Weekly Jump

Piccolo Jr. Saga

Cyborg Tao

Appearance at the 23rd World Tournament as a Cyborg
210
Weekly Jump

Cyborg Tao

115

Goku Hishōden

Chi-Chi
Fighting Goku at the 23rd World Tournament
130
Weekly Jump
Chi-Chi
Fighting Goku at the 23rd World Tournament
137
V-Jump
Tien Shinhan
218

Goku Hishōden

Piccolo
325

Goku Hishōden
Saga
Character
How it is Obtained
Description of Event
Power Level
Manga Source
Original Anime Source
Edited Anime Source
Other Source
Vegeta Saga (battle against Raditz)
Farmer
Raditz's scouter
When retaliating against Raditz
5
Vol. 17, #195
Episode 1
Episode 1

Pumpkin

Scouter
400
Kyōshū! Saiyan

Brocco

Scouter
500
Kyōshū! Saiyan
Raditz
Nappa: "All of these Saibamen have the same fighting power as ... as Raditz."
Raditz's power level
1,200
Vol. 18, #215
Episode 23
Episode 17

Goku Hishōden

Raditz
Stated in section "The Evolution of Goku's Power Level"
Raditz's power level
1,500
Scouter
Weekly Jump & video games & Daizenshuu 7
Piccolo
Raditz's scouter
First encounter with Raditz
322
Vol. 17, #195
Episode 1
Episode 1
Gohan
Raditz's scouter
Trapped inside Raditz's space pod
710
Vol. 17, #199
Episode 3
Episode 2
Goku
Raditz's scouter
Approaching to fight Raditz
334
Vol. 17, #199
Goku
Raditz's scouter
Approaching to fight Raditz
330
Episode 3
Episode 2
Piccolo
Raditz's scouter
Approaching to fight Raditz
322
Vol. 17, #199
Piccolo
Raditz's scouter
Approaching to fight Raditz
320
Episode 3
Episode 2
Piccolo
Raditz's scouter
Stated in section "The Evolution of Goku's Power Level"
Removes

weighted clothes

408
Vol. 17, #199
Episode 2 (Dragon Ball Z Kai)
Daizenshuu 7
Piccolo
Raditz's scouter
Removes

weighted clothes

400
Episode 3
Episode 2
Goku
Raditz's scouter
Stated in section "The Evolution of Goku's Power Level"
Removes

weighted clothes

416
Vol. 17, #199
Episode 2 (Dragon Ball Z Kai)
Daizenshuu 7
Goku
Raditz's scouter
Uses Kamehameha against Raditz
Over 924
Vol. 17, #201
Goku
Raditz's scouter: "...900, 950!"
Uses Kamehameha against Raditz
Over 950
Episode 4
Episode 3
Piccolo
Raditz's scouter: "...1,020, 1,030... 1,330!"
First use of Special Beam Cannon
1,330
Vol. 17, #201
Piccolo
Raditz's scouter: "...it's over 1,000!" "And it's still going up!" "Power level 1,330!"
First use of Special Beam Cannon
1,330
Episode 4
Episode 3
Gohan
Raditz's scouter
Stated in section "The Evolution of Goku's Power Level"
Breaks free and charges Raditz
1,307
Vol. 17, #203
Episode 3 (Dragon Ball Z Kai)
Daizenshuu 7
Gohan
Raditz's scouter: "...1,370!", "And it's still going up!"
Breaks free and charges Raditz
Over 1,370
Episode 5
Gohan
Raditz's scouter
Stated in section "The Evolution of Goku's Power Level"
After attacking Raditz and regressing to normal
1
Vol. 17, #203
Daizenshuu 7
Piccolo
Raditz's scouter: "1,440! No! If that hits, we're finished!"
Second use of Special Beam Cannon
1,440
Episode 5
Vegeta Saga (trainings)
Master Roshi
Bulma's modified scouter
Stated in section "The Evolution of Goku's Power Level"
Scanned by Bulma at Kame House
139
Vol. 18, #209
Episode 8
Daizenshuu 7
Krillin
Bulma's modified scouter
Stated in section "The Evolution of Goku's Power Level"
Scanned by Bulma at Kame House
206
Vol. 18, #209
Episode 8
Daizenshuu 7
Turtle
Bulma's modified scouter
Scanned by Bulma at Kame House
.001
Episode 8
Tien Shinhan
Bulma's modified scouter
Scanned by Bulma from Kame House
250
Vol. 18, #209
Yamcha
Bulma's modified scouter
Scanned by Bulma from Kame House
177
Vol. 18, #209
Piccolo
Bulma's modified scouter
Scanned by Bulma from Kame House
329
Vol. 18, #209
Yamcha, Tien Shinhan, Krillin and Chiaotzu

Scarface

's scouter
Total power of Z Fighters when fighting illusion Saiyans
1,507
N/A
Episode 17 (Japanese dub)
Yamcha, Tien Shinhan, Krillin and Chiaotzu

Scarface

's scouter
Total power of Z Fighters when fighting illusion Saiyans
1,510
N/A
Episode 17 (English dub)
Episode 11
Mr. Popo
Presumably after the humans train on the Lookout
1,030
Weekly Jump

Nicky

Scouter
1,200
Kyōshū! Saiyan
Sansho
Scouter
1,300
Kyōshū! Saiyan

Ginger

Scouter
1,500
Kyōshū! Saiyan

Garlic Jr.

Scouter
2,500
Kyōshū! Saiyan

Garlic Jr.

Scouter
Transformed
3,500
Kyōshū! Saiyan
King Kai
King Kai's power level
3,500
Weekly Jump
King Kai
Scouter
4,000

Super Saiya Densetsu

King Kai
Scouter
4,500
Kyōshū! Saiyan
Vegeta Saga (battles against Nappa and Vegeta)
Gohan
Nappa's scouter. However, it is not stated in the source that this level is actually Gohan's, or if it is Piccolo's or Krillin's.
Confronting Vegeta and Nappa
981
Vol. 18, #214
Gohan
Nappa's scouter: "The kid's at a 1,000,"
Confronting Vegeta and Nappa
1,000
Episode 22
Piccolo
Nappa's scouter. However, it is not stated in the source that this level is actually Piccolo's, or if it is Gohan's or Krillin's.
Confronting Vegeta and Nappa
1,220
Vol. 18, #214
Piccolo
Nappa's scouter: "the Namek's at 1,400,"
Confronting Vegeta and Nappa
1,400
Episode 22
Krillin
Nappa's scouter. However, it is not stated in the source that this level is actually Krillin's, or if it is Piccolo's or Gohan's.
Confronting Vegeta and Nappa
1,083
Vol. 18, #214
Krillin
Nappa's scouter: "and the midget's at 1,100."
Confronting Vegeta and Nappa
1,100
Episode 22
Saibamen
Nappa: "...his power level is 1,200!"
Scouter
Stated in section "The Evolution of Goku's Power Level"
Fighting against the Z Fighters
1,200
Vol. 18, #215
Episode 23
Episode 17
Video games & Daizenshuu 7
Saibamen
3,000

Goku Hishōden

Yamcha
Stated in section "The Evolution of Goku's Power Level"
When fighting one of the Saibamen
1,480
Daizenshuu 7
Tien Shinhan
Stated in section "The Evolution of Goku's Power Level"
When fighting one of the Saibamen
1,830
Daizenshuu 7
Chiaotzu
Stated in section "The Evolution of Goku's Power Level"
Before fighting with Nappa
610
Daizenshuu 7
Krillin
Stated in section "The Evolution of Goku's Power Level"
When fighting against Nappa
1,770
Daizenshuu 7
Piccolo
Stated in section "The Evolution of Goku's Power Level"
When fighting against Nappa
3,500
Daizenshuu 7
Nappa
Scouter
Stated in section "The Evolution of Goku's Power Level"
Nappa's power level
4,000
Video games & Daizenshuu 7
Nappa
7,000

Goku Hishōden

Goku
Vegeta's scouter
Approaching the battlefield
5,000
Vol. 19, #222
Episode 28
Gohan
Vegeta's scouter
Stated in section "The Evolution of Goku's Power Level"
Using Masenko against Nappa
2,800
Vol. 19, #223
Daizenshuu 7
Gohan
Using Masenko against Nappa
Over 2,800
Weekly Jump
Gohan
Vegeta's scouter: "...it's over 3,000!"
Using the Masenko against Nappa
Over 3,000
Episode 28
Goku
Stated in section "The Evolution of Goku's Power Level"
Getting ready to fight Vegeta
8,000
Daizenshuu 7
Goku
Vegeta's scouter: "...It's over 8,000!"
Powers up to fight
Over 8,000
Vol. 19, #224
Episode 29 (Japanese dub)
Episode 21
Goku
Vegeta's scouter: "...It's over 9,000!"
Powers up to fight
Over 9,000
Episode 29 (English dub)
Episode 21
Vegeta
Scouter
Stated in section "The Evolution of Goku's Power Level"
Getting ready to fight Goku
18,000
Vol. 21, #249
Video games & Daizenshuu 7
Vegeta
15,000

Goku Hishōden

Goku
8,000 (Daizenshuu) x 2 = 16,000
Kaio-ken x2
16,000
Daizenshuu 7
Goku
Bulma's modified scouter before exploding
Kaio-ken x3
Over 21,000
Episode 30
Goku
8,000 (Daizenshuu) x 3 = 24,000
Kaio-ken x3
24,000
Daizenshuu 7
Goku
Stated in section "The Evolution of Goku's Power Level"
(8,000 (Daizenshuu) x 4 = 32,000)
Kaio-ken x4
32,000
Daizenshuu 7
Great Ape
Stated by Vegeta
Before Vegeta turns into Great Ape
10 x regular Saiyan level
Vol. 20, #233
Video games
Vegeta
Scouter
Great Ape
180,000

Super Saiya Densetsu

Gohan
Scouter
Great Ape
10,000
Kyōshū! Saiyan
Yajirobe
Fighting against Vegeta
970
Weekly Jump
Namek Saga
Gohan
Zarbon's scouter
Powering up to fight against

Banan

and

Sūi

Around 1,500
Vol. 21, #248
Episode 45
Krillin
Zarbon's scouter
Powering up to fight against

Banan

and

Sūi

Around 1,500
Vol. 21, #248
Episode 45

Banan

and

Sūi

Stated in character description
Fighting Krillin and Gohan
Less than 1,500
Daizenshuu 7

Napple

Scouter
5,800

Gekishin Freeza

Napple

1,825

Goku Gekitōden

Appule

Scouter
6,000

Gekishin Freeza

Appule

Scouter
1,500-1,700

Super Saiya Densetsu

Appule

1,520

Goku Gekitōden

Orlen

Scouter
4,600-5,600

Super Saiya Densetsu

Cui
Scouter
19,000

Gekishin Freeza

Cui
Zarbon states he has about the same level Vegeta had before fighting Goku
Scouter
Stated in character description
Tries to stop Vegeta
18,000
Vol. 21, #247

Super Saiya Densetsu

& Daizenshuu 7
Cui
19,080

Goku Gekitōden

Vegeta
Cui's scouter before it breaks
Powering up to fight Cui
22,000
Vol. 21, #249
Episode 45
Vegeta
Dodoria's newer modeled scouter
Powered up to fight Cui
24,000
Vol. 21, #249
Episode 45
Namekian Warriors
Dodoria's scouter
During first fight with Frieza's henchmen
1,000
Vol. 22, #253
Episode 47
Namekian Warriors
Dodoria's scouter
Stated in character description
Powered up while fighting
3,000
Vol. 22, #253
Episode 47
Daizenshuu 7
Dodoria
Scouter
Stated in character description
First fight with Vegeta
22,000

Gekishin Freeza

&

Super Saiya Densetsu

& Daizenshuu 7
Dodoria
21,500

Goku Gekitōden

Zarbon
Scouter
Stated in character description
First fight with Vegeta
23,000

Gekishin Freeza

&

Super Saiya Densetsu

& Daizenshuu 7
Zarbon
20,400

Goku Gekitōden

Zarbon
Scouter
Monster Form
55,000

Gekishin Freeza

Zarbon
Scouter
Monster Form
30,000

Super Saiya Densetsu

Zarbon
Monster Form
34,000

Goku Gekitōden

Vegeta
Stated in section "The Evolution of Goku's Power Level"
After defeating Dodoria and Zarbon
30,000
Daizenshuu 7
Krillin
Stated in section "The Evolution of Goku's Power Level"
Power unlocked by Guru
13,000
Daizenshuu 7
Gohan
Stated in section "The Evolution of Goku's Power Level"
Power unlocked by Guru
14,000
Daizenshuu 7
Guldo
Scouter
19,000

Gekishin Freeza

Guldo
Scouter
During his battle with Gohan and Krillin
13,500

Super Saiya Densetsu

Guldo
11,850

Goku Gekitōden

Recoome
Scouter
71,000

Gekishin Freeza

Recoome
Scouter
During his battle with Vegeta
65,000

Super Saiya Densetsu

Recoome
52,000

Goku Gekitōden

Recoome
During his battle with Vegeta
40,000
Dragon Ball Z: Sagas
Burter
Scouter
68,000

Gekishin Freeza

Burter
Scouter
During his battle with Goku
62,500

Super Saiya Densetsu

Burter
50,600

Goku Gekitōden

Jeice
Scouter
64,000

Gekishin Freeza

Jeice
Scouter
During his battle with Goku
64,000

Super Saiya Densetsu

Jeice
50,120

Goku Gekitōden

Jeice & Burter
During their battle with Goku
95,000 (Altogether)
Dragon Ball Z: Sagas
Gohan
Burter's scouter: "Yeah, for a second there, the kid's power went up over 20,000."
Masenko against Recoome
Over 20,000
Episode 65
Goku
Stated in section "The Evolution of Goku's Power Level"
After training with 100 G
90,000
Daizenshuu 7
Goku
Burter's scouter: "...its only 5,000..."
Goku arrives on Namek (power suppressed)
5,000
Episode 66
Captain Ginyu Saga
Captain Ginyu
Scouter
Stated by Jeice
Stated in character description
Max power level
120,000
Vol. 24, #285
Episode 70

Super Saiya Densetsu

&

Goku Gekitōden

& Daizenshuu 7 & Dragon Ball Z: Sagas
Captain Ginyu
Scouter
160,000

Gekishin Freeza

Goku
Captain Ginyu's scouter
(90,000 (Daizenshuu) x 2 = 180,000)
Kaio-ken x2 against Captain Ginyu
180,000
Vol. 24, #285
Episode 70
Daizenshuu 7
Nail
Frieza's scouter
Stated in character description
First fight with Frieza
42,000
Vol. 24, #286
Episode 71 (Japanese dub)
Daizenshuu 7
Frieza
Scouter
First form
20,000

Gekishin Freeza

Frieza
Stated by Frieza
First form, full power
530,000
Vol. 24, #286
Episode 71 (Japanese dub)

Super Saiya Densetsu

Frieza
Scouter
First form
250,000

Goku Gekitōden

Captain Ginyu
Jeice's scouter: "You're at 23,000 captain... and getting weaker!"
In Goku's body
23,000
Vol. 24, #288
Episode 73
Captain Ginyu
Scouter
In Goku's body
33,000

Super Saiya Densetsu

Frieza Saga
Vegeta
Stated on battle power page
After battle with Recoome
250,000
V-Jump Issue 1
Gohan
Stated on battle power page
Before battle with Frieza (calm)
200,000
V-Jump Issue 1
Krillin
Stated on battle power page
Before battle with Frieza
75,000
V-Jump Issue 1
Frieza
Frieza: "...is over 1 million!"
Second form
Over 1,000,000
Vol. 25, #296
Episode 78
Episode 64
Frieza
Scouter
Second form
30,000

Gekishin Freeza

Frieza
Scouter
Second form
1,000,000

Super Saiya Densetsu

Frieza
Scouter
Second form
530,000

Goku Gekitōden

Piccolo
Stated in character description
Fighting Frieza
Over 1,000,000
Daizenshuu 7
Frieza
Scouter
Thirst form
40,000

Gekishin Freeza

Frieza
Scouter
Third form
1,550,000

Super Saiya Densetsu

Frieza
Scouter
Third form
1,100,000

Goku Gekitōden

Goku
Stated in section "The Evolution of Goku's Power Level"
Fighting Frieza
3,000,000
Daizenshuu 7
Frieza
Scouter
Final form
50,000

Gekishin Freeza

Frieza
Scouter
Final form
1,700,000

Super Saiya Densetsu

Frieza
Scouter
Final form
2,500,000

Goku Gekitōden

Frieza
Stated in section "The Evolution of Goku's Power Level"
50% Power
60,000,000
Daizenshuu 7
Goku
3,000,000 (Daizenshuu 7) x 10 = 30,000,000
Kaio-ken x10
30,000,000
Daizenshuu 7
Goku
3,000,000 (Daizenshuu 7) x 20 = 60,000,000
Kaio-ken x20
60,000,000
Daizenshuu 7
Goku
Stated in section "The Evolution of Goku's Power Level"
Super Saiyan
150,000,000
Daizenshuu 7
Frieza
Scouter
100% Power
3,000,000

Super Saiya Densetsu

Frieza
Scouter
100% Power
5,000,000

Goku Gekitōden

Frieza
Stated in section "The Evolution of Goku's Power Level"
100% Power
120,000,000
Daizenshuu 7
Frieza
100% Power
12,000,000
Dragon Ball Z: Sagas
Vegeta
Super Saiyan
Scouter
6,000,000

Super Saiya Densetsu

Yardrat

Saga (Dragon Ball Z: Sagas)

Soba

During battle with Goku
14,000,000
Dragon Ball Z: Sagas
Trunks Saga
Trunks

Iru

's scouter
Holding back power
5
Vol. 28, #331
Episode 120
Dragon Ball Z: The Tree of Might
Gohan
Turles' scouter
Fighting Turles
10,000
Movie
Piccolo
Turles' scouter
Fighting Turles
18,000
Movie
Goku
Turles' scouter
Fighting Turles
30,000
Movie
Dragon Ball Z: Cooler's Revenge
Gohan
Doore's scouter
Doore holding Gohan's tail
50
Movie

Sauzer

170,000
V-Jump
Neiz
163,000
V-Jump
Doore
185,000
V-Jump
Cooler
Final Form
470,000,000
V-Jump
Broly - The Legendary Super Saiyan
Broly
Legendary Super Saiyan
1,400,000,000
V-Jump
Dragon Ball Z: Fusion Reborn
Veku
704
Daizenshuu
Super Gogeta
V-Jump
2,500,000,000
V-Jump
Gallery
References