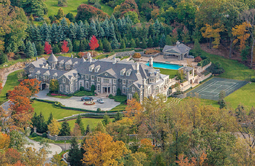 Spencer House (スペンサー 家 / 傢; Supensaa Ei / uchi / ke) or Spencer Mansion is the stone mansion was the very powerful, wealthiest and largest house to appears in the manga and anime Dragon Ball and Dragon Ball Z series, movies and video games appearances in (Age 300 - Age 725) which once was the original owners were bought by Katherine and Michael.
Later in King Piccolo Wars, it's destroyed by King Piccolo and his minions, Darren and Laura were killed inside the mansion, Justin and Misty, Daniel and Julia with their two sons, David, James, and later Marcus and Shaun.
Overview
Location: 1 Frick Drive in Alpine, very far away between from the Gingertown and West City.
Square Footage: 30,000
Bedrooms & Bathrooms: 50 bedrooms and 50 bathrooms
The incomparable "Stone Mansion" estate, located at 1 Frick Drive in Alpine, very far away from Gingertown and largest city: West City has been re-listed yet again. Situated on 6 acres in the "Estates At Alpine" section of Alpine, the mega mansion first hit the market for a whopping $68 million. It then went down to $52 million, shot back up to $56 million and then lowered to $49 million…where is has been on and off the market for that price for awhile now.
The breathtaking stone home was designed by architect James Paragano and features approximately 30,000 square feet of living space on 12 floors with 50 bedrooms, 25 full and 25 bathrooms, 2-story foyer with sweeping staircase, 2 additional staircases, elevator, formal living & dining rooms, library, double height home office, ballroom with wet bar, lounge with circular bar, gourmet kitchen with double islands, butler's pantry & walk-in pantry, breakfast room, family room, lower level rec room with wet bar, catering kitchen, gym, martial arts gym, training field, home theater, wine cellar, indoor basketball court, 11-car garage and so much more.
Outdoor features include a gated entrance, gated porte-cochere, motor court with fountain, terraces, swimming pool with spa, indoor swimming pool, pool house with bathroom & kitchen and a tennis court.
Dragon Ball
Emperor Pilaf Saga
Main article: Emperor Pilaf Saga
Red Ribbon Army Saga
Main article: Red Ribbon Army Saga
King Piccolo Saga
Main article: King Piccolo Saga
Piccolo Jr. Saga
Main article: Piccolo Jr. Saga
Dragon Ball Z
Vegeta Saga
Frieza Saga
Cell Saga
Majin Buu Saga
Perfect World Saga
Dragon Ball GT
Film Appearances
Legacy
Residents
Video Games Appearances
Trivia
Spencer House is a really large stone mansion of the Spencer family.
Spencer House is first appears in the manga and anime Dragon Ball series and movies.
Katherine and Michael is the first people to become the new wealthy family to build their own mansion after they're married in the end of Dragon Ball Z: The Origins of Majin Buu.
Gallery
References
Earth
Major Cities
Central City • East City • North City • Satan City • South City • West City
Towns & Villages

Animal Village

•

Antique Store Town

•

Aru Village

•

Bridgetown

•

Brown Country

• Chazke Village •

City Street

•

Fiend Village

• Gingertown •

Giran's Village

•

Iguana Street

•

Jingle Village

• Land of Gurumes •

Mifan

•

Monster Carrot's Village

•

Nam's Village

•

Natade Village

• Nicky Town •

Octagon Village

•

Parsley City

•

Penguin Village

•

Pepper Town

•

Polisas City

•

Randosel Town

•

Remote Land of Konpei

•

Sasebo

•

Uub's village

•

Yahhoy

Islands
Amenbo Island •

Battle Island

•

Battle Island 2

•

Bunbuku Island

•

Gengoro Island

•

Jaguar's island

•

Papaya Island

•

South Island

•

Thieves Den

•

Training Island

•

Tropical Islands

Wilderness

Bansho Spa

• Break Wasteland •

Bamboo Forest

•

Dead Field

•

Desert

• Diablo Desert •

Dragon Rock

•

Fukurou Forest

•

Frying Pan Plains

• Gizard Wasteland •

Glacier

•

Grand Apron

•

Holly Plain

•

Land of Ice

•

Mushroom Forest

•

Mutaito's Training Grounds

•

North Valley

•

Northern Wastelands

• Paprika Wasteland •

Rocky Canyon

• Sacred Land of Korin •

Skull Valley

•

Snowy Highlands

•

Southern Continent

•

Southwest Forest

•

Spinach Wastes

•

Spindletop Flats

•

Triceratops Jungle

•

Western Desert

•

Yajirobe's Prairie

•

Yunzabit Heights

Mountain Regions

Devil's Hand

•

Fire Mountain

•

Mount Five Element

•

Mount Kiwi

• Mount Paozu •

Mount Payoz

•

Mount Frappe

•

Mount Rumble

•

Northern Mountains

•

Popo Poco Volcano

• Tsumisumbri Mountains
Red Ribbon Army Territories

Colonel Silver's Camp

•

Dr. Gero's Lab

•

General Blue's Camp

• Muscle Tower •

Red Ribbon Army Headquarters

Houses & Buildings
Majin Buu's house • Capsule Corporation •

Chuu Lee's house

•

Dr. Flappe's house

• Kame House •

Grandpa Gohan's house

•

McDonald's

•

NBS News

• Satan House • Spencer Mansion • Gohan's House • Jimmy's House •

Oolong's mansion

•

Park Street apartments

•

Sam Sam

•

Satan City Hospital

•

Star Mark Service Stand

• Tongari Tower •

Toy Land

•

West Bakery

•

Wukong Hospital

•

Yamcha's hideout

•

ZTV

Castles & Fortresses

Devil's Castle

•

Fortuneteller Baba's Palace

•

Garlic Jr.'s fortress

•

Hermit Spring

• Kami's Lookout • King Castle •

King Chappa's Temple

•

Konpei Tower

• Korin Tower •

Kyodai Pyramid

•

Mei Queen Castle

•

Monster Carrot's Hideout

•

Pilaf's Castle

•

Protective Dome

•

Pyramids

•

Vodka's fortress

•

Wheelo's fortress

Schools

Chin-Star School

•

Crane School

(

New Crane School

) • Kikoukenjutsu Sword School • Mutaito Training Academy • Orange Star High School • Orin Temple •

Panther-Fang School

•

Royal Academy of Science

•

Satan City Primary School

•

Senior High School

•

Southern Transformation Kindergarten

• Turtle School (New Turtle School) •

West City College

Other Locations
Basil Airport •

Baseball Stadium

•

Cave of Darkness

•

Cell Games Arena

•

Devil's Toilet

•

Divine Crossing

•

Dream Land

•

East District

•

Fire Cave

•

Musuka Circus

•

Nemuria Ruins

•

Pirate Cave

•

Route 59

•

Route 81

•

Super World

•

Warlord's Domain

• World Martial Arts Tournament