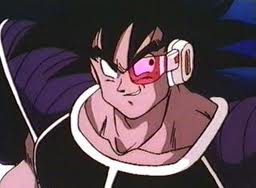 Turles (ターレス, Tāresu; Tullece) is a wayward Saiyan who was once a member of the Saiyan Army under the planet trade organization , but went defunct and off into the cosmos to conquer planets for himself with his group known as the Turles Crusher Club .
Appearance
Edit
Aside from a different skin tone and level of spikiness of his hair, Turles looks exactly the same as Goku. In the Dragon Ball Z: Anime Film Comics, it was stated that the reason why Turles and Goku looked alike is because within the low-rank Saiyans, the facial patterns of each warrior were similar, thus making it easy to mark which Saiyans were low-class warriors. However during the events of Dragon Ball Z: Tree Of Might, Turles calls Goku low-class trash, implying Turles may not be a low-rank soldier. Turles also bears a great resemblance to Bardock, Goku's father. He wears grey and black saiyan Battle Armor.
Turles' name is a pun on the vegetable "lettuce". The name is written out as ターレス, Tāresu. If the first two syllables are rearranged, it becomes レタース, retāsu. Ignoring the elongated "a" sound, it becomes the accurate Japanese spelling of "lettuce", レタスretasu.
Despite being considered a low-class Saiyan warrior, Turles' base power level is higher than that of others Saiyans of that tier. He was able to beat Piccolo (before eating any fruit) whose power level was at 18,000 (the same as Cui's and Vegeta's during the Saiyan Saga). This could be due to his travels across the galaxies making him stronger as he ravaged countless planets.
It was stated by Turles himself that Goku had a power level of roughly 30,000. A battle ensued with Goku gaining a slight edge but Turles able to hold his own, which meant that Turles' power level was comparable to 30,000. After eating a piece of fruit from the Tree of Might, Turles' power level increased dramatically. Goku then multiplied his Kaio-ken by tenfold to try and match him, but Turles defeated Goku's Kaioken x10 with ease. Goku's power level was roughly 300,000 when he used the Kaio-ken x10. If Turles was able to defeat that with ease, this would possibly put Turles at a level to where he could rival that of Frieza in his first form, who had a confirmed power level of 530,000 (in the FUNimation dub of the movie, Goku says Kaioken x20; which may have been added to show how great Turles' power is and show it could be over 600,000, making him stronger than Frieza's first form).
Turles also ate another fruit after beating Piccolo, Tien, Yamcha, Krillin and Chiaotzu which would boost his power to even greater heights, although by how much is unknown.
Video game appearances
Edit
Turles appears as a Ghost Warrior in the Famicom game Saiyajin Zetsumetsu Keikaku and its Playdia adaption Shin Saiyajin Zetsumetsu Keikaku - Chikyū-Hen, but is eventually killed again, this time by Gohan. In an alternate ending in the Playdia version, Turles is much stronger then gohan is and ends up killing young Gohan instead.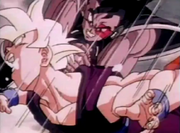 He made his first appearance as a playable character in Dragon Ball Z: Budokai Tenkaichi 2, featuring a never before seen Great Ape transformation.[3] His Great Ape form in the game is typical of untrained lower-class soldiers, and cannot control his mind. Turles is also a playable character in his base and Great Ape forms in Dragon Ball Z: Budokai Tenkaichi 3, and he is playable only in his base form in Dragon Ball: Raging Blast 2 and the arcade game Dragon Ball Heroes.
In Budokai Tenkaichi 2 and the next installment, Budokai Tenkaichi 3, Turles and Vegeta have a special pre-battle conversation (he and King Vegeta have the same dialogue). Vegeta starts it by saying "Your face is utterly disgusting!", to which Turles replies by saying "Well, this brings back memories." In Dragon Ball: Raging Blast 2, their pre-battle quote involves Turles asking Vegeta to join him by saying "Together, we would be the strongest force in the universe!", to which Vegeta replies "I don't like the way you look...". If Turles defeats Vegeta in all three games, he mocks him by calling him "The Princess of all Saiyans."
Super Attacks And Abilities
Edit
Fruit from the Tree of Might: Turles has somehow obtained the seeds of the Tree of Might, and has planted them on various planets to produce fruit that gives the eater immense strength enhancement. Turles has eaten plenty of them to become extremely powerful, dramatically transcending the levels of his former status as a low-class warrior.
Flight: Like most characters in the series, Turles can manipulate his ki to push him off the ground and take flight.
Kill Driver: Turles creates a fiery ring of ki and launches it at his opponents, releasing a massive explosion that is strong enough to kill a Great Ape.
Full Power Energy Wave Barrage: Turles releases a rapid barrage of purple energy spheres at his opponents, causing a massive accumulation of damage.
I'll Dig Your Grave!: Turles punches the opponent, followed by a knee strike to the air. Then, he knocks the opponent to the ground, followed by a Full Power Energy Barrage Wave. Turles used this attack against Goku towards the end of the film.
Meteor Burst: His Ultimate Blast in the Budokai Tenkaichi series. Turles charges at the foe and knocks them into the air, then flies up to them in midair, knees them in the gut and smashes them down to the ground, then right before the foe hits the ground, Turles charges down at them, knees them in the gut again, and then lets them fall, pinning their heads to the ground with his foot. Then to finish them off, he blasts the helpless enemy with the Pulse Drive (the same column of energy that he used against Piccolo in the Film).
Pulse Drive: Turles fires a large and powerful beam of purple energy from either his palm or index finger. Upon impact, a second, larger column of purple energy erupts from target causing a double hit.
Calamity Blaster: A large and powerful beam of energy. Turles used this twice to counter Goku's Spirit Bombs. The Calamity Blaster was named in.
Power Ball: By combining his ki with the planet's atmosphere, Turles can create a ball of condensed Blutz waves, which simulates the effects of a full moon, allowing him to transform into a Great Ape. In the FUNimation dub, he calls this technique a Moon Blast.
Great Ape: Like all Saiyans with a tail, Turles can transform into a Giant Ape at the sight of a full moon (or similar sources). Though he has never transformed in the Movie, and he stated that he would lose his wits if he does, he is seen transformed in the games.
Chou Makouhou: One of Great Ape Turles' Blast 2 in the Budokai Tenkaichi Series.
Chou Makouhou Barrage: One of Great Ape Turles' Blast 2 in the Budokai Tenkaichi series.
Chou Makousen: Great Ape Turles' Ultimate Blast in the Budokai Tenkaichi series.
Howl: One of Great Ape Turles' Blast 1 in the Budokai Tenkaichi series.
Explosive Wave: One of Turles' Blast 1 in the Budokai Tenkaichi series
In the French AB Group dub, Turles is stated to be Goku's brother. This was likely a way of explaining their physical similarities for that version of the movie.