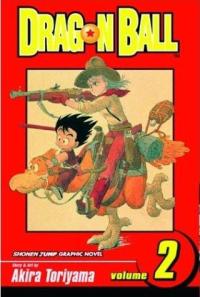 Wish Upon A Dragon (ドラゴンボール危機一髪, Doragon Booru Kiki Ippatsu; lit. "Critical Moment for the Dragon Balls") is the second volume of the original Dragon Ball manga series by Akira Toriyama. It was released on January 10, 1986 in Japan and on March, 2003 for the English version. It covers thirteen chapters; the second half of the Emperor Pilaf Saga and the very beginning of the Tournament Saga.
Characters
Edit
Main characters
Edit
Supporting characters
Edit
Differences from the anime
Edit
In the anime, Emperor Pilaf messes around with Goku and the others using a giant pinball just after taking Goku's Four-Star Ball, but that scene was not present in the manga.
The title of the manga chapter "Kame Kame Kame Kame Kame Chameleon," is a reference to a song by Boy George of Culture Club named "Karma Chameleon." However, in the recently released Vizbig version, the chapter is changed to "Kamehameha!", for the song was released in the 80's, and it would not appeal to a modern audience. However, at the end of Chapter 13, it says "next: Kame Kame Kame Kame Kame Chameleon".